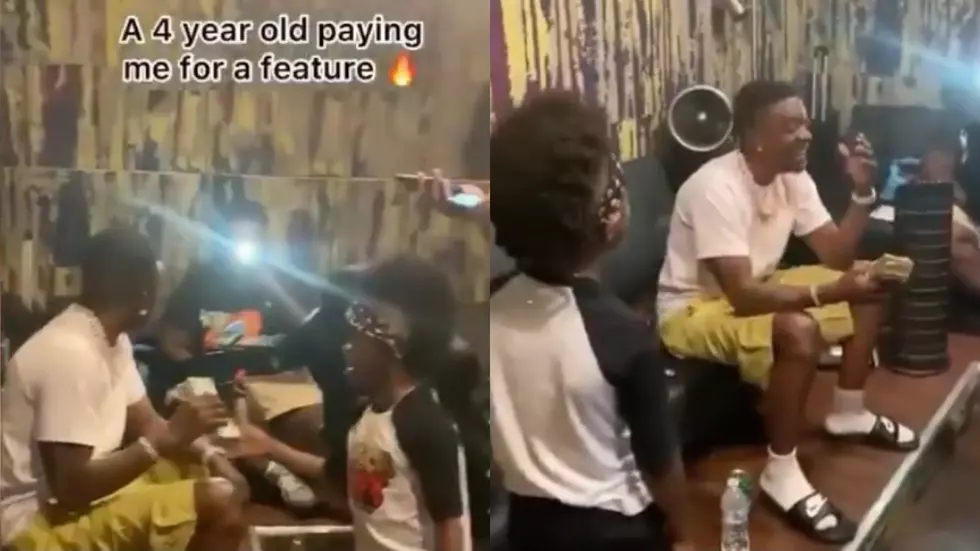 'Lil Boosie' Left Shocked after 4-Year-Old Aspiring Rapper Hands Over Wad of Cash for Feature
Twitter via @DailyLoud
Lil Boosie was recently shocked by a young aspiring rapper who had saved up his dollars to buy a feature from the Louisiana rapper. Video of the 4-year-old handing Boosie a wad of cash has gone viral and you can check it out here.
"This dude got a hit!"
Louisiana-born rapper Lil Boosie has a knack for finding the limelight. Whether it is getting pulled over by police officers or getting twerked off a boat and into the water, Boosie sure knows how to go viral.
Now, Lil Boosie is going viral for an instance that even he was shocked by.
4-Year-Old Rapper Saves up Money to Buy Feature from Lil Boosie
See the video of the interaction shared on Twitter by @DailyLoud on Twitter below.
As you can see in the video, Boosie is absolutely shocked. The young kid pulls out a wad of cash and hands it over to secure his verse from the Louisiana rapper.
The two shared a handshake, seemingly locking in the feature.
Personally, I can't wait to hear what this song sounds like. I'm specifically interested in how a veteran rapper like Lil Boosie will approach a verse on a 4-year-old's track.
Social Media Reacts to 4-Year-Old Handing Lil Boosie a Wad of Cash for Feature
Check out what the internet thinks about the moment via Twitter below.
Do you think that Boosie should have helped out the young artist for free? Or is this a good introduction for the youngster who hopes for a future in the music business? Let us know in the comments.
10 Famous People You Didn't Even Know Were From Lafayette