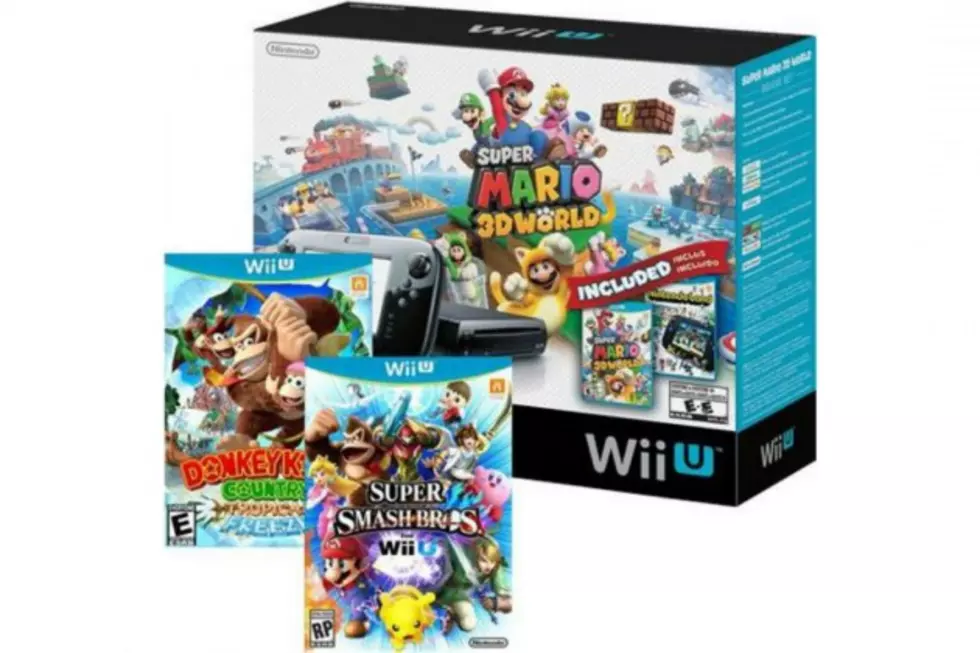 Cyber Monday Deals for Walmart, Best Buy, Amazon and More
Nintendo
Think of it like Black Friday with a shipping charge so you can avoid the crowds, traffic, mobs, chaos and long lines.
Thanks to IGN, we have found a collection of a lot of gaming-related sales that will be starting in a few hours. While not all of these sales are as good as their Black Friday counterparts, just remember that by buying these items online as opposed to in person, you didn't have to deal with the chaos of going to the mall and superstores this past weekend. We're also glad to see the stores that don't have many physical locations, such as Amazon and Dell, are going to be offering a lot of exclusive deals you can't get anywhere else.
Just remember, a lot of Cyber Monday deals have not been revealed yet -- many of them will just be put online for buyers to discover on their own. These discounts are so good, we heard that third-party retailers would start selling the Wii U/GameCube adapter for a normal price. Just kidding.
Toys R Us Cyber Monday Sales:
Skylanders Trap Team Starter Pack - Free With Purchase of an Xbox One Console
$30 Gift Card - Free with the purchase of 2 select games (In Store Only)
$5 Gift Card - Free with the Purchase of a 3DS Game (In Store Only)
$25 Gift Card - Free with the Purchase of 2 3DS Games (In Store Only)
$25 Gift Card - Free with purchase of PS3 Disney Infinity Bundle (In Store Only)
Disney Infinity & Amiibo Figures - Save $10 when you purchase $35 or more.
Skylanders Figure - Free with purchase of Skylanders starter pack (In Store Only)
Disney Infinity Figure - Free with purchase of Disney Infinity Starter Pack (In Store Only)
Nintendo Amiibo Figure - Free with purchase of Super Smash Bros for WiiU (In Store Only)
Samsung Galaxy Tab 4 7.0 - $149.99
Samsung Galaxy Tab 4 8.0 - $199.99
Samsung Galaxy Tab 4 10.1 - $249.99
Kindle Fire HDX 7" - $179.99
Kindle Fire HDX 8.9" - $349.99
Xbox 360 & Xbox Skylanders Trap Team Starter Pack - Buy both and save $25
Xbox One Consoles - All $50 Off
Wii U Gaming Headset - $14.99
Nintendo 3DS Disney Infinity Starter Pack - $24.99
Xbox One Controllers - $49.99 (Online Order Only)
Special Edition Armed Forces Xbox One Controller - $54.99 (Online Order Only)
Various Video Games - Up to 50% Off (Online Order Only)
Amazon Cyber Monday Deals: 
PlayStation 4 Grand Theft Auto V and The Last of Us Remastered Bundle - $400
Xbox One Assassins Creed Bundle - $449 (Available Sunday Only)
Xbox One Call of Duty Bundle - $449 (Available Sunday Only)
Xbox One Console - $349.99 (Available Sunday Only) - $329.99 (Available Monday Only)
Xbox One Sunset Overdrive Bundle - $349.99 (Available Sunday Only) - $329.99 (Available Monday Only)
Xbox One Assassin's Creed Bundle - $429.99 (Available Monday Only)
Xbox One Call of Duty Bundle - $429.99 (Available Monday Only)
PS3 Afterglow Controllers - $29.99 (Available 30th-6th)
Astro Headset for Xbox One, PS4 - $249.99 (Available 1st Only)
PFD Afterglow Wired Controller for Xbox 360 - $24.99 (Available 30th-6th)
Xbox 360 Call of Duty Bundle - $199.99 (Available Monday Only)
Astro Gaming A40 and Mixamp - $199.99 (Available Monday Only)
Thrustmaster VG T100 Racing Wheel for PS3 - $119.99 (Available 1st-5th)
Afterglow Karga Headset $79.99 (Available 30th-6th)
Afterglow Kral PS4 Wireless Headset $79.99 (Available 30th-6th)
Afterglow Karga Xbox One Headset $79.99 (Available 30th-6th)
Watch Dogs - $47.49 (Available 29th Only)
Assassin's Creed:Rogue - $47.49 (Available 29th Only)
Thrustmaster VG Ferrari Racing Wheel - $229.99 (Available 1st-5th)
Xbox 360 4GB Console - $149.99 (Available 1st Only)
Just Dance 2015 - $29.99 (Available 29th Only)
Bioshock Infinte Complete - $29.99 (Available 2nd-6th)
Escape Dead Island - $29.99 (Available 3rd-9th)
Afterglow Pro Controller for WiiU - $29.99 (Available 30th-6th)
Falling Skies:The Game - $29.99 (Available 29th-6th)
Skylanders Trap Team - $54.99 (Available 1st Only)
Xbox 360 Peggle Bundle - $129.99 (Available 1st Only)
Civilization: Beyond Earth - $34.99 (Available 1st Only)
Battlefield 4 - $20.25 (Available 1st Only)
Astro Gaming A40 Headset - $99.99 (Available 1st Only)
NHL 15 - $39.99 (Available 1st Only)
NBA Live 15 - $39.99 (Available 1st Only)
Diablo 3 Ultimate Evil Edition - $39.99 (Available 1st Only)
Fifa 15 - $39.99 (Available 1st Only)
NBA 2k15 - $39.99 (Available 1st Only)
Madden 15 - $39.99 (Available 1st Only)
Sims 4 - $39.99 (Available 1st Only)
Borderlands: The Presequel - $39.99 (Available 2nd-6th)
Lords of the Fallen - $39.99 (Available 29th-6th)
WWE 2k15 - $39.99 (Available 2nd-6th)
Walking Dead Complete First Season - $19.99 (Available 1st Only)
Call of Duty: Ghosts - $24.99 (Available 1st Only)
Grand Theft Auto 5 - $34.99 (Available 2nd-6th)
Rocksmith 2014 Edition - $44.99 (Available 1st Only)
Tropico 5 - $19.99 (Available 29th-6th)
Starcraft II: Heart of the Storm - $9.99 (Available 1st Only)
Walmart Cyber Monday Deals:
Vizio E550i 55-inch 1080p 120Hz LED Smart TV $648
Beats by Dre Wireless On-Ear Headphones $199
Apple iPad mini 16GB Wi-Fi $199
Samsung 50-inch 1080p 60Hz LED Smart HDTV $498
Wii U 32GB system w/ Mario Kart 8 and Nintendoland
3DS XL with Super Mario Bros 2 installed $150
 Microsoft Store Cyber Monday Deals:
Middle Earth: Shadow of Mordor $25
Kinect Sports Rivals $25
Forza Motorsport 5 $25
Fantasia: Music Evolved $30
Tomb Raider: Definitve Edition $20
Metro Redux $25
Sunset Overdrive (in and out of stock) $40
Xbox Live 3-month Gold Membership (digital code) $15
Up to $20 off select Xbox 360 games
Dell 28" 4K Monitor - $300
HP Stream 13 Signature Edition Laptop $200
Reurbished Xbox One with Kinect, Ryse, and Dance Central $330
Acer Aspire E15 E5-E9QA Signature Edition $400
Dell Inspiron 20 3043-1252BLK Signature Edition All-in-One $300
Surface 2 Tablet - $150 Off
Surface Pro 3 - $100 Off
 Best Buy Cyber Monday Deals:
Wii U 32GB system w/ Super Smash Bros, Donkey Kong Country: Tropical Freeze, Super Mario 3D Land, and Nintendoland $360
25% off Nintendo eShop credit
Sharp 42-inch LED 1080p HDTV $300
Logitech G502 Proteus Optical Mouse w/ $50 Steam gift card $80
Razer DeathAdder Chroma optical mouse $55
Turtle Beach Ear Force XO One stereo headset for Xbox One $40
Turtle Beach Ear Force P12 wired stereo headset for PS4 and PS Vita $40
The Walking Dead Season 2 $20
Turtle Beach Ear Force PX4 wireless suround sound headset for PS4, PS3, and Xbox 360 $80
The Evil Within $25 on PS4 and Xbox One, $20 on PS3 and Xbox 360
Canon Rebel T3i DSLR Camera with 18-55mm IS Lens $450
Asus 15.6-inch laptop w/ i5 4GB memory 500GB HD $400
Lenovo S8-50 16GB Tablet $160
Nokia Lumia 530 Windows Phone 8.1 no-contract $35
Sol Republic Punk Indoor/Outdoor Speaker $50
Google Play $50 gift card $45
Google Play $25 gift card $22.50
Diablo 3: Reaper of Souls - Ultimate Evil edition $30
Inspiron 15 w/ pentium, windows 8.1, 4GB RAM, 500GB HDD - $249.99
Inspiron 15 3000 Series w/ i3, Windows 7, 4GB RAM, 500GB HDD - $399.99
Inspiron Desktop w/i3, Windows 8.1, 8GB RAM, 1TB HDD - $399.99
Venue 8 3000 Series Tablet - $299.99
Inspiron 15 5000 Series Laptop w/i5, Windows 8.1, 8GB RAM, 1TB HDD - $579.99
Dell 22" Monitor - $99.99
XPS 8700 w/ i5, Windows 8.1, 8GB RAM, 1TB HDD, 1GB nvidia GT 720 - $599.99
XPS 8700 w/ i7, Windows 8.1, 16GB RAM, 1TB HDD, Nvidia GTX 745 - $799.99
Dell Ultrasharp Multimedia Monitor - $199.99
Sony Playstation 4 Bundle w/ Infamous:Second Son, Killzone Shadow Fall, Tomb Raider, 3 Month PS Plus, extra controller - $499.99