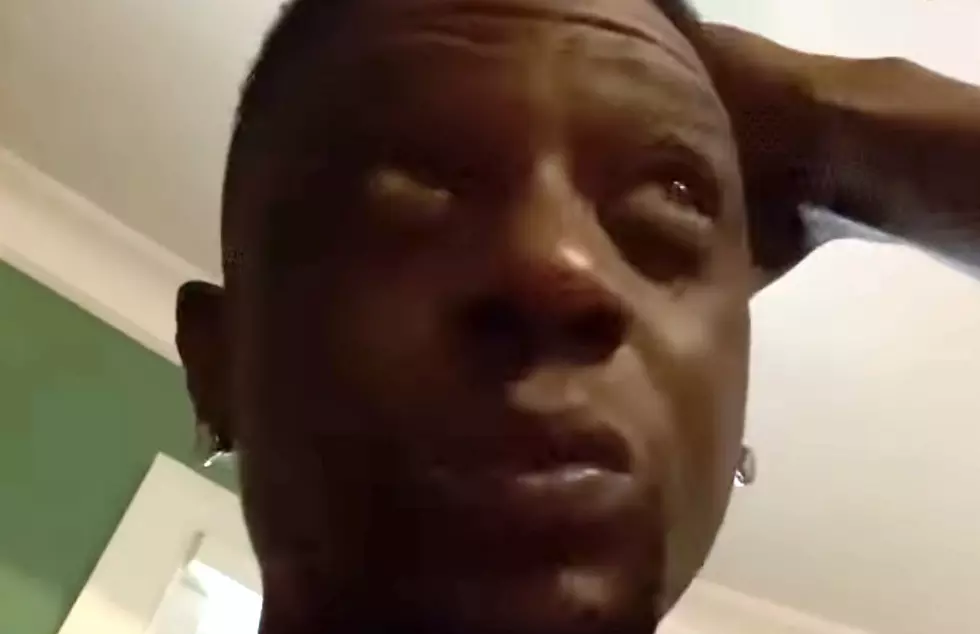 Boosie Makes His Wildest Request Yet as Fans Flip Out Over Ticket Prices for His Topless Pool Party
Boosie Badazz, Instagram
Rapper Boosie Badazz always "needs something," but this may be his wildest request to date.
The Baton Rouge-born rapper is planning a wild weekend in Atlanta from Jul 8 to July 10 that will feature a Skate Party, an Adult Prom, and a Topless Pool Party as the grand finale.
Dubbed The Boosie Badazz ATL Weekend, tickets for the events are available for purchase but fans are literally flipping out at the cost to party and hang with the "Set It Off" rapper.
Tickets for the Skate Party on Friday, July 8 start at $25, but things only go up from there. The next night (July 9) the cheapest ticket to the Adult Prom hosted by Bow Wow and Jagged Edge is an early bird special that will run you $150 and quickly jumps to thousands of dollars for the VIP experience.
While it will cost you a pretty penny to party with Boosie, fans are flipping out over the price of his Topless Pool Party. It is by far the most exclusive of all of his weekend events and as of now, the $500 tickets have sold out bringing the entry-level ticket to $1000 per head.
Like the other events, VIP upgrades are available with the highest package (the BADAZZ MONSTER SECTION) clocking in at just under $20k. For what it's worth it comes with 15 tickets (a $15,000 value) plus 5 bottles and a group picture with Boosie himself.
Fans were quick to point out how insane the price point was with one commenter saying that this event wasn't for fans, but instead celebrities who could afford the high entry fees.
Some were shocked to see how pricey the event was, asking if there was some type of payment plan being offered for those who didn't have the full amount upfront.
Others said they would just catch the highlights on social media.
I don't think that the following video features the "MONSTER SECTION" but it does seem like Boosie is even offering a treehouse on his property as an Airbnb-type rental for anyone who wants to pay to stay on the property.
Of course, this could be Boosie joking around, but as one commenter put it, "a hustler gonna hustle" so I wouldn't be surprised if he did offer up this treehouse at a premium for his Badazz ATL Weekend events.
But, as anyone who follows Badazz may know by now, it's that Boosie always "needs something."
We've seen Boosie ask for everything including belts, go-karts, cars, haircuts, jet skis, boats, three giraffes, a "deer hitter," his neighbor's land, and, most recently, a wishing well for his daughter.
While Boosie normally finds a way to get whatever he requests from his fans, his latest need could be his wildest (and most lucrative?) need to date.
Boosie took to IG to look for three men who are able to "suck toes" at his upcoming topless pool party at the request of the "baddest chicks" that he will be hand-delivering tickets to in multiple cities. According to Boosie, there will be compensation involved for the toe suckers who are ultimately chosen for the gig.
It will be interesting to see who pops up at Boosie's ATL Weekend, but I can guarantee that even at the outrageous price point it will be packed and all over social media that weekend.
In the meantime, if you suck toes, you should contact him ASAP and you might actually walk away from the event with unforgettable memories and a little extra cash in your pocket.
What's the most you would ever pay to go to a concert or a private party? Drop the total amount in the comments and let me know.
LOOK: Here is the richest town in each state
Just saying the names of these towns immediately conjures up images of grand mansions, luxury cars, and ritzy restaurants. Read on to see which town in your home state took the title of the richest location and which place had the highest median income in the country. Who knows—your hometown might even be on this list.